Cancer Care Basics (CANB00ODM20)
Facilitator(s):
None - Self Directed Learning. Development was led by Donalda MacDonald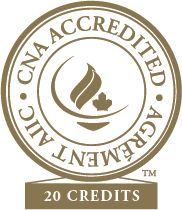 This online course will introduce health care professionals to oncology. Oncology patients receive care from all health care settings – including tertiary care centres, general hospitals, community care clinics, long term care and home care. They receive care from many health care professionals, depending on their disease, treatment and needs. Given the increasing complexity of this growing patient population, caring for people with cancer and their families involves a particular set of skills and knowledge from a variety of health care professionals.
This course will introduce the essential concepts in oncology, and provide fundamental information to those who work with oncology patients and their families.
Accreditation:
This self-directed course is accredited by the Canadian Nurses Association (CNA). It meets the standards of quality for continuing professional development (CPD) in Canada and is awarded 20 CNA credits.
If you have already completed the Foundations for Oncology Nursing Practice (FONP or FOND) course with us, we DO NOT recommend the "Cancer Care Basics" course because all content would have been covered by FONP. Please note that if you choose to take both "Cancer Care Basics" and "Foundations for Oncology Nursing Practice", only one of them will receive de Souza credits towards a de Souza Designation.
Course Syllabus
Learning Objectives
By the end of this course, you will be able to:
Briefly review normal cell biology and lab values
Explain key concepts of cancer, including genetics and carcinogenesis
Explain how a diagnosis of cancer is made, the diagnostic testing necessary to identify stage of disease, and the current treatments available for cancer
Describe the psychosocial aspects of cancer including screening for distress and sexuality
List some of the common survivorship issues
List and describe six common symptoms of cancer, their assessment and management
Course Requirements
To receive a certificate, participants must complete the following before the course completion date:
Complete a pre-course evaluation
Complete all modules
Complete the quiz and case studies
Complete a post-course evaluation
Course Syllabus: To view the course syllabus, please click HERE
Time Commitment: This is a self-paced course. Participants have 10 weeks to complete all the course requirements. Upon successful completion, participants will be awarded a certificate for 20 learning hours.
Eligibility
This course is designed for front line multidisciplinary providers, including family physicians; nurses; and allied health care providers.
Payment must be received before you have access to the course. For more information, please visit our Cancellation & No Show Policy.
Participants can pay for this course online with a credit card, or send a cheque to:
de Souza Institutec/o The Michener Institute of Education
222 St. Patrick Street, Office 503
Toronto, ON M5T 1V4